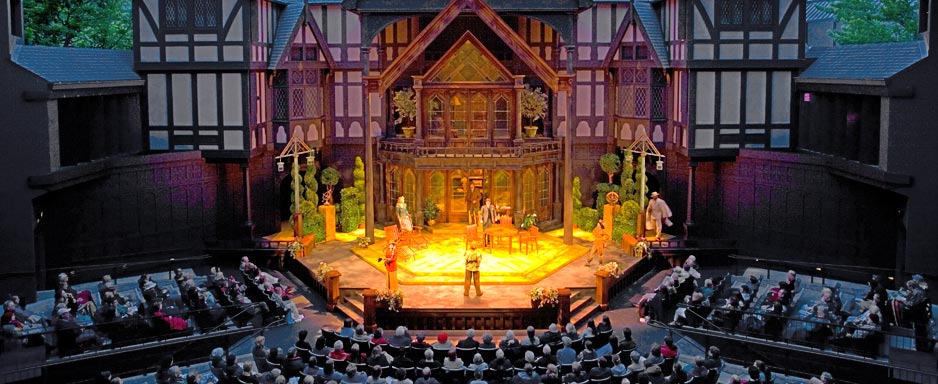 Let us Entertain You!
Oregon Shakespeare Festival – 15 South Pioneer St, Ashland • (541) 482-4331
Founded in 1935, the Tony Award-winning Oregon Shakespeare Festival (OSF) is among the oldest and largest professional non-profit theatres in the nation. Each year OSF presents an eight-and-a-half-month season of eleven plays in three theatres plus numerous activities, and undertakes an extensive theatre education program. Group Sales: 541-488-5406
Oregon Cabaret Theatre – South First Street, Ashland, next to the Ashland Springs Hotel • (541) 488-2902
Enjoy first-rate entertainment in an elegant yet comfortable setting of the historic "Old Pink Church" featuring stained glass windows and crystal chandelier. Five cabaret productions of dynamic musicals, revues, and comedies performed February thru December. Dinner, desserts and beverages available prior to shows.
Camelot Theatre Company – 101 Talent Avenue, Talent • (541) 535-5250
Camelot Theatre Company is a semi-professional theatre and not-for-profit organization located in Talent. Founded in 1982, the company, then Actors' Theatre, took up residence in the early 1990's in a one-time feed store converted to a 103-seat theatre. In 2002, Livia Genise was recruited as Managing & Artistic Director and one year later, the theatre was reorganized as Camelot Theatre. Its growth and prosperity has been astounding ever since due to Camelot's excellent acting and production values, and its increasingly popular season of four musicals, three plays and four "spotlight" musical performances. Since 2011, Camelot has resided in a 164-seat state-of-the-art, environmentally sustainable building built with the support of the surrounding community. The Camelot Theatre Company's mission is to be of service to the Rogue Valley, by producing high-quality affordable plays, musicals and musical events while providing a supportive environment for professional and amateur theatre artists and technicians, within Southern Oregon.
ScienceWorks Hands-on Museum – 1500 E. Main St, Ashland • (541) 482-6767
This hands-on discovery museum is open Wednesday thru Saturday 10:00am to 5:00pm and Sundays 12:00pm to 5:00pm. Admission: Fee varies.
Varsity Theatre – 166 East Main St, Ashland • (541) 482-3321
A historic movie theater in downtown Ashland shows independent as well as mainstream movies. The Varsity Theatre also hosts the annual Ashland Independent Film Festival in the spring.
Schneider Museum of Art – Southern Oregon University, 1250 Siskiyou Blvd • (541) 552-6245
The Schneider Museum of Art, plays a central role in this exciting new complex bringing compelling and challenging exhibits to southern Oregon, along with a rich spectrum of programming that includes workshops, family days, lectures, performances, and concerts.
First Friday Art Walk – PO Box 241 • (541) 488-8430
Sponsored each month by the Ashland Gallery Association; discover an amazing array of art forms and expressions while strolling through beautiful downtown Ashland year round.
Historic Jacksonville – 185 N. Oregon St • (541) 899-8118
This gold rush town of the 1850's is full of antiques, restored homes, shops and museums and home to the world famous Britt Festival is just 15 miles west of Ashland.
Britt Festivals – PO Box 1124 • (541) 779-0847
Britt Festivals is the Pacific Northwest's premiere outdoor summer performing arts festival. Located in the historic 1850's gold rush town of Jacksonville, Britt presents dozens of summer concerts, featuring world-class artists in jazz, folk, country, pop, dance, and classical music. The Britt Festivals Gardens and Amphitheater is located in Jacksonville about five miles west of Medford and 20 miles north of Ashland.
The Craterian Ginger Rogers Theater – 23 S Central Ave • (541) 779-3000
Music, dance and theater performances available.