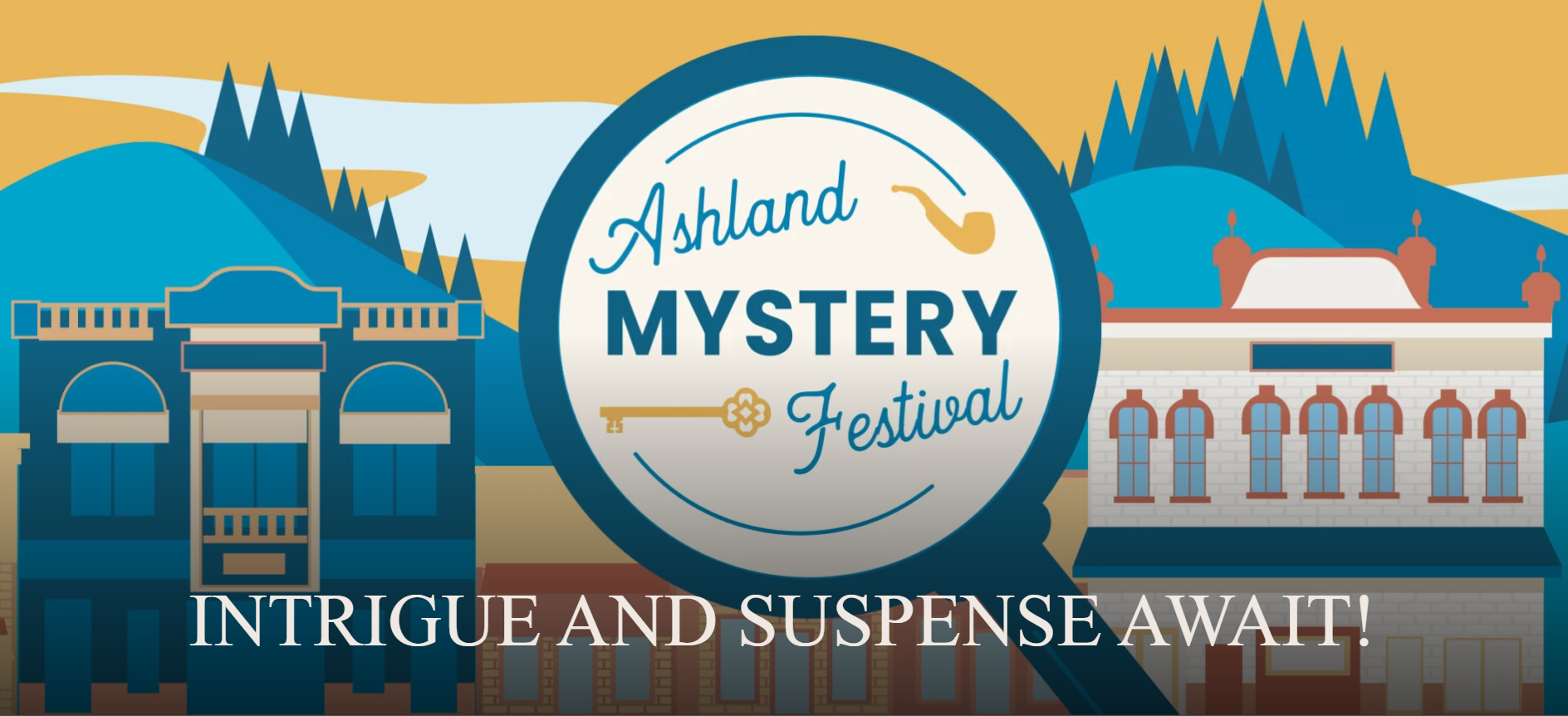 Ashland Mystery Festival
October 20 – 22, 2023
Ignite your curiosity. Ashland becomes your own game of mystery this fall. Experience the magic of our town and enjoy all things thrilling. Immerse yourself in a world of puzzles, haunted walks, mystery author panels, and settle in for a fun filled weekend. Uncover the secrets that lie within! Explore festival highlights below.
Mystery at the Springs Package
Available Friday, October 20th ONLY. Includes:
Overnight stay for two guests in a beautifully appointed guest room.
Two tickets to Friday Night Festival Kickoff Reception in the Grand Ballroom of Ashland Springs Hotel. Mingle with mystery authors, live music, and appetizers.
Chocolate dessert from LARKS Restaurant's pastry chef.
Complimentary hot continental breakfast.
Complimentary steam and sauna at hotel's Waterstone Spa.
Free parking and WiFi
Package starting rate $269
-OR- call to reserve: 1-888-795-4545
Festival Lineup Highlights
Mystery Author Panels: 10/20: Bakeshop Mystery author Ellie Alexander and her writing colleagues will take centerstage. Hear from these acclaimed authors as they discuss their inspirations, writing processes, and the art of crafting compelling mysteries. Get insights into their latest works and learn about the secrets behind their captivating storytelling. Free event.
Solve the Mystery: 10/20: Participate in an exciting mystery game and test your puzzle solving skills. Step into the shoes of a detective, gather clues, and unravel the mystery. Free event.
Mystery Pub Crawl: 10/20: Cheers with friends, enjoy local brews, and take in the magic of fall foliage in Ashland.
Solve a Mystery Dinner: 10/20 & 21: Step into the elegant Crystal Room of the historic Ashland Springs Hotel for an interactive dinner event. Enjoy exquisite four course mystery menu crafted by award-winning Executive Chef, Franco Console of LARKS. Let Certified Sommelier, Molly Shaughnessy, lead you through a blind pairing of four local wines. Finally, take part in the interactive menu discovery process before each course.
Haunted Walks: 10/21: Prepare yourself for an eerie and spine-chilling experience. Enjoy a unique opportunity to immerse yourself in the paranormal. Free event.
LARKS After Hours Mystery Mixology Event: 10/21: Join a mystery writer for an evening of cocktails and literary adventure. Enjoy craft cocktail demos and taste cocktail samples. You might even spot an apparition at the original 1920s bar. Limited seating.