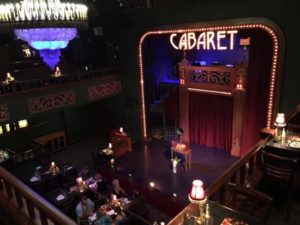 Getaway to charming Ashland! Experience the Oregon Cabaret Theatre and refreshing comfort of our historic landmark hotel. Watch one of three live shows from tiered levels and balcony in the elegant interior complete with stained glass windows and a magnificent crystal chandelier from an old movie palace. First-rate professional musical theatre entertainment awaits! (Theatre located just steps from our hotel.)
CHOOSE FROM THREE SHOWS:

I. Once the Musical, April 26 – July 1, 2018 (Wednesday shows start in June)
This beautiful tribute to love set in present day Ireland nearly swept the Tony Awards in 2012, winning Best Musical and seven other awards. A truly original theatrical experience featuring a full ensemble of twelve that all play their own instruments onstage. learn more

II. Avenue Q, July 12 – September 9, 2018
A show filled with gut-busting adult humor and a delightfully catchy score – not to mention puppets. learn more

III. Picasso at the Lapin Agile, September 20 – November 11, 2018 (no shows on Wednesdays)
This long running Off-Broadway absurdist comedy from the mind of funnyman Steve Martin places Albert Einstein and Pablo Picasso in a Parisian cafe in 1904, just before the renowned scientist transformed physics with his theory of relativity and the celebrated painter set the art world afire with cubism. – learn more


PACKAGE INCLUDES:

Overnight stay for two guests.

Two tickets to the Oregon Cabaret Theatre.

Complimentary steam and sauna at Waterstone Spa.

Deluxe continental breakfast for two.

Afternoon tea service at the hotel.

Hotel parking & WiFi.

Package starts at $265 (starting rate varies on reservation date and room type availability). Bookable only during the three shows above. Theatre dark on Tuesdays.

BOOK NOW: 541.488.1700