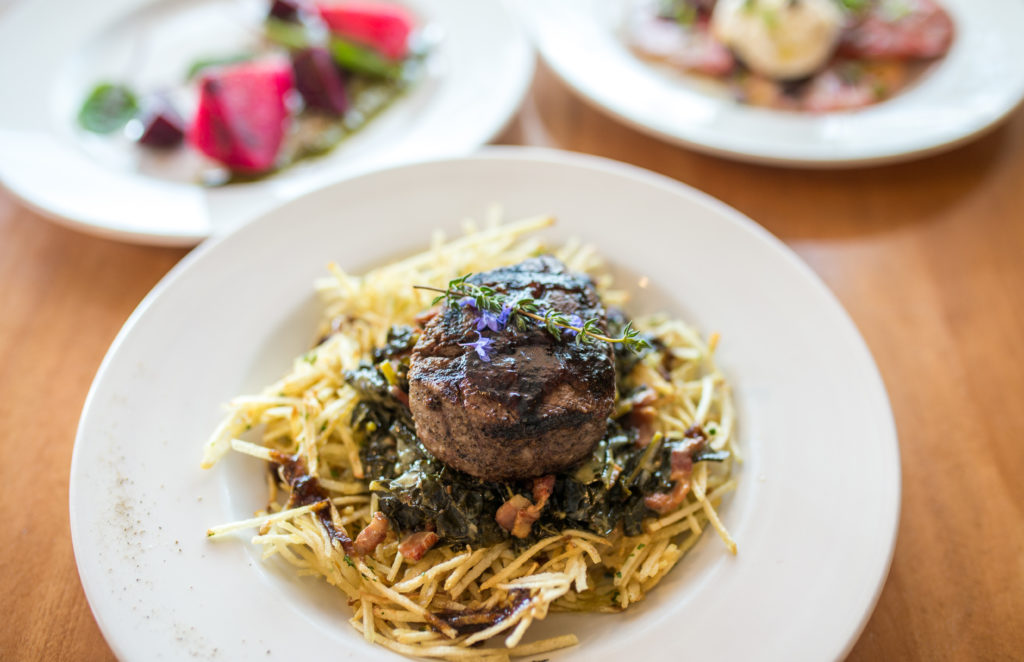 Featured Food & Wine in and Around Ashland
LARKS Restaurant
Larks – Home Kitchen Cuisine Restaurant – 212 E. Main Street, Ashland, 541.488.5558
Our hotel's restaurant celebrates Oregon: its farms, orchards, creameries and wineries offering dishes that excite and surprise with freshness and flavors. We are passionately committed to offering the freshest & local ingredients possible. Larks celebrates Oregon's bounty by creating innovative cuisine from scratch.
Our restaurant Executive Chef Franco Console is a masters in showcasing opulent seasonal ingredients delivered daily from local farms, delighting visitors with the flavors of this amazing region. The creativity of our chefs is expressed in every daily special.
Dishes like homemade meatloaf, hearty soups, colorful salads and grilled Northwest steelhead are the most popular. Other specialties include pork chop and Dungeness crab fondue. Ingredients like truffle oil, wild mushrooms, hazelnuts, pears and marionberries layer in the Oregon flavor. Pastry chef's creations depend on what is available that season and include fruit tarts, chocolate cake with housemade salted caramel ice cream, or cranberry-pumpkin bread pudding.
Our beverage selection extends the theme of local and seasonal with a choice of herb infused cocktails made with Oregon spirits, local wines, and beers.
Larks Restaurant creates a connection between restaurant guests and our local farmers, ranchers, distillers and winemakers.
Southern Oregon Wine Regions
The Applegate and the Rogue Valley wine regions are becoming more and more popular. We hope that during your stay in Ashland you will put some time aside to visit wonderful artisans who work those vineyards and explore great tasting Southern Oregon wines. Please watch this episode – Applegate Uncorked – from the Uniquely Rogue series and start planning!
Weisinger Family Winery – 3150 Siskiyou Blvd. Ashland 541.488.5989
Family owned winery located in Ashland. Features beautiful tasting room with a deck overlooking surrounding mountains. Live music during summer months.
Roxy Ann Winery – 3285 Hillcrest Rd, Medford 541.776.2315
RoxyAnn Winery was founded in 2002 at the historic Hillcrest Orchard in east Medford. RoxyAnn's vineyard is located on the southwest slopes of Roxy Ann Peak. Tasting Room in the historic Hillcrest barn is OPEN DAILY just minutes off Interstate-5 in Medford, 11:00am-6:00pm. Bring a picnic, and join us for wine tasting while enjoying the beautiful gardens overlooking the vineyard and orchard.
Eden Vale Winery – 2310 Voorhies Rd, Medford 541.512.2955
Geographically positioned as the Gateway to the Southern Oregon Wine Country, Eden Valley is a destination facility rich in history, grace and that authentic Oregon feel. The gracious Voorhies Mansion and picturesque property is the "place and story" that anchors the Rogue Valley's Agricultural history. In the heart of Oregon's pear country and surrounded by the rolling hills of the Southern Oregon, Eden Valley is the perfect location for your picnic accompanied by a wine tasting.
Valley View Winery – 1000 Upper Applegate Road, Jacksonville 541.899.8468
Established first in the 1850's, Valley View Winery welcomes you with a spectacular tasting room located in the picturesque Applegate Valley.
Ledger David Cellars – 245 A North Front Street, Central Point 541.664.2218
Visit Le Petit Tasting Room, nestled between the World Famous Rogue Creamery and Lillie Belle Farms chocolate shop. Enjoy our signature Primoris (Chenin Blanc) and other estate wines including Chardonnay, Sangiovese, and our double gold award-winning red blend Orion's Nebula. Indulge in our unique wine tasting experience.
Five minutes off I-5, west on exit 33. Open April thru September, daily noon to 5 p.m., October thru March, Thurs. – Mon., noon to 5 p.m.
Southern Oregon Winery Tours – 541.476.WINE
Explore Southern Oregon's wine country in style. Spend an unforgettable day amidst spectacular Oregon outdoors, tasting a variety of fine-crafted and well-aged wines. Get acquainted with the passionate people who make these wines, and learn about the history of this relatively new wine region. Experience some of the best wine tasting in Southern Oregon and enjoy delicious local food during the vineyard picnic, also included in your package. With help from the professionals, you'll discover great tasting rooms and beautiful places you will want to visit again and again. View the Southern Oregon Wine Tasting Package available at our hotel.
Oregon Chocolate Festival
This truely chocolate-centric event takes place each year during the first weekend in March. Over 50 chocolatiers and specialty food vendors flood Ashland to showcase their fantastic creations. Explore latest chocolate world trends, take part in the Chocolate Makers Dinner, watch chef demos and more. This episode of Uniquely Rogue talks about the Oregon Chocolate Festival. To find our more visit festival site.
Dagoba Organic Chocolate – 1105 Benson Way, Ashland
Founded in 2001 by Frederick Schilling, DAGOBA seeks to create the world's most exquisite organic chocolate, following the highest ethical and ecological practices. The company offers a full line of award-winning bars, baking essentials, drinking chocolates and specialty items in retail and foodservice sizes. Factory store/tasting room open: Monday through Friday – 10 am to 4 pm
Lillie Belle Farms – 211 N. Front St. Central Point 541.664.2815
Voted one the Top 10 Chocolatiers in North America by Dessert Professional Magazine, chocolatier Jeff Shepherd has turned his passion for all things chocolate into an international tourist destination. His exhibition kitchen and eclectic shop in Central Point has become a "must see" for every visitor to Southern Oregon. With over 100 different award winning chocolates on display it is no wonder Oprah, Martha Stewart, Bob Dylan, Tom Petty, and Wolfgang Puck all have one thing is common; a love for Lillie Belle Farms Hand Made Chocolates. Open 7 days a week.
Cary's of Oregon Chocolate -413 Union Ave, Grants Pass 888.822.9300
Opening as a family business in 2001, Cary's of Oregon now offers several delicious flavors of toffee chocolates. Always gluten and preservative free, this Grants Pass Company prides itself on the unique "soft-crunch" texture of each candy and friendly open tours of their facility.
Rogue Creamery – 311 N. Front St. Central Point 541.665.1155
In the first two years the Creamery won numerous trophies and awards, including World's Best Blue Cheese at the World Cheese Awards in London, a first for a U.S. creamery.
Harry and David Country Village and Factory Tour – 1314 Center Drive, Medford 541.864.2277
This flagship store of Harry and David's offers bountiful gift baskets, impressive gift towers and decadent desserts, which have been delighting gourmet connoisseurs for over 75 years. For last minute gifts, delicious treats for every occasion and easy entertaining solutions. Come in and taste their tantalizing appetizers, rich chocolates, specialty coffees, gourmet sauces and condiments. They offer custom gift basket service. All you do is choose the contents and expert gift specialists will take care of the rest. Consider viewing their impressive factory. Daily tours available.
Gary West Meats – 690 North 5th St. Jacksonville, 800.833.1820
By 1989 in Jacksonville, Gary's Hickory Smoked Beef Jerky was becoming the mainstay of the business with mail order and wholesale accounts reaching across the United States and Japan. Today products from Gary West Meats are highly prized for their delicious flavor, superior quality, low fat, no additives and minimal use of preservatives. Visit their gift and tasting shop located in Jacksonville.