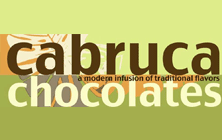 Cabruca blends traditional ingredients in chocolate making with a modern approach for exotic – and yet, comforting – creations that will bring a smile to your face.
Inspired by traditional Brazilian recipes and created the heart of the Umpqua Valley in Southern Oregon, every one of our chocolates is filled with all natural, local ingredients – no artificial flavors, colors and preservatives. We use only the best pure chocolate, working in small batches, paying special attention to details.
Every bite of Cabruca Chocolates is more than just a chocolate bite – it is a delightful experience, sure to create everlasting memories.
Back to Participants