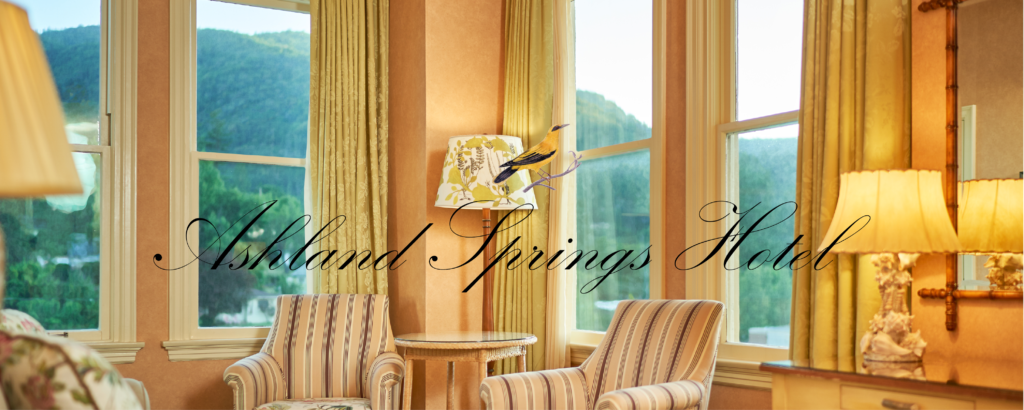 We are pleased to welcome you to Ashland Springs Hotel. The health and safety of our guests and team will always come first. Please review some new practices and experiences you can anticipate when you come to stay at Ashland Springs Hotel.
Following the guidelines of the Oregon Health Authority:
Face coverings are required in indoor public spaces at all times. Persons under the age of 12 and persons who require an accommodation or are exempt under federal/ state law are also exempt.

Our property is sanitized and maintained with daily cleaning to ensure our guests are safe and comfortable. For your safety, please review some additional "wellbeing" practices of our hotel below.
PROPERTY WIDE
Face masks are required on property by all team members.

Elevator buttons are sanitized regularly. We ask that a limited number of guests use the elevator at the same time.

Hand sanitizers are available at the front desk and in Larks restaurant.

Front door handles are sanitized regularly throughout the day.

The air filters in the public areas are changed out regularly to keep fresh air circulating.

All public area seating and tables throughout the hotel are cleaned and sanitized on a regular basis.

Employees are empowered to stay home if unwell.

Requirement for all employees to wash hands more frequently.
GUEST ROOMS
Rooms are being sanitized during cleaning with an emphasis on all touch points.

Individually wrapped paper cups will temporarily replace glassware and coffee mugs.

Note pads and pens have been removed. They are available at the front desk upon request.

Guest directory has been removed and replaced with a laminated information card. This card is cleaned and sanitized prior to next guest check in.

Bed lavender sachets and decorative pillows have been removed for guest peace of mind.

In-room coffee machines are cleaned and sanitized prior to guest check in.

Guest room air filters are on a rotating schedule for replacement.
FRONT DESK
The front desk counter is sanitized after every guest interaction.

Plexiglass shields have been installed for guest and team member safety.

Room keys are sanitized using approved disinfectant.

Guests have the option of skipping the checkout process by having their bill emailed to them.

Luggage carts are cleaned and sanitized regularly throughout the day.

6-foot social distancing markers are in place to ensure a safe distance between guests.
HOUSEKEEPING
Rooms are thoroughly cleaned prior to guest check in with approved disinfectants and cleaners.

Linens and laundry continue to be washed and refreshed in accordance to CDC guidelines.

Housekeeping services are offered according to guest preference for regular service, Going Green or no service (do not disturb)

Regular Service – Our team will enter your room once to clean and refresh the room.

Going Green – Our team will enter your room to empty trash and straighten the room.

Do Not Disturb – Our team will not disturb your stay with housekeeping service.
CONTINENTAL BREAKFAST
Our complimentary breakfast is served daily from 7am to 10am in the Palm Room on the second floor of the hotel.

Breakfast and coffee is served to you by the breakfast attendants wearing gloves and protective face masks. There is no self-service available.

Travel path markers are visible on the floor for entering and exiting the Palm room.

Guests can enjoy their breakfast on the 2nd floor Mezzanine, our Conservatory or outside in the English Garden.

Condiments are available individually packaged.

Silverware is rolled in paper napkins.
BUSINESS CENTER
Located on the 5th floor of the hotel. The desk, chair and computer equipment are sanitized regularly for guest safety.
LARKS HOME KITCHEN CUISINE
LARKS Home Kitchen Cuisine Wellbeing Practices