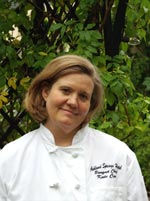 Kate Cyr began her journey with cooking as a small child in Davis, CA, beside her beloved Grandmother, who used a dishtowel as her first apron.
Her Grandmother was an artist who believed all aspects of life was a palette (or palate) aching to be explored and recreated. Kate uses her Grandmother's enthusiasm to create her own versions of recipes, adding ingredients and spices with love.
Kate graduated from the New England Culinary Institute in 1992 with honors and immediately began pleasing guests at the The La Cortina & The Vermont Inns in Mendon, Vermont.
After a visit to Southern Oregon, she fell in love with Ashland, and soon after moved here to begin another journey with cooking & baking. Over the course of many years, she has worked in many fine establishments including Primavera Restaurant, Gala Catering, Allyson's of Ashland and The Apple Cellar.
Larks Restaurant has been Kate's home for the last 3 years. The Farm Fresh to Table philosophy at Larks had captured Kate's heart and she continues to create & re-create many amazing meals and desserts.