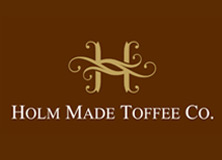 Holm Made Toffee Co. is pleased to participate in the Oregon Chocolate Festival. Founded in 2007 by Donna Holm, HMTC features Oregon-Style Hazelnut Toffee: a mouth-watering, buttery, nutty, chocolaty, melt-in-your-mouth, over the top TREAT that is, quite simply, irresistible! Please be sure to stop by our booth and try a sample – you won't soon forget the delightful & sweet experience!
Thank you all for supporting another small, local business – and please remember Holm Made Toffee Co. for all your gift-giving needs.
Our Hazelnut Toffee is THE PERFECT GIFT for any occasion.
Please Like us on Facebook at www.facebook.com/holmmade
Online store: www.holmmadetoffee.com
Email: holmmadetoffee@gmail.com
Cell: 541-430-7092
Back to Participants