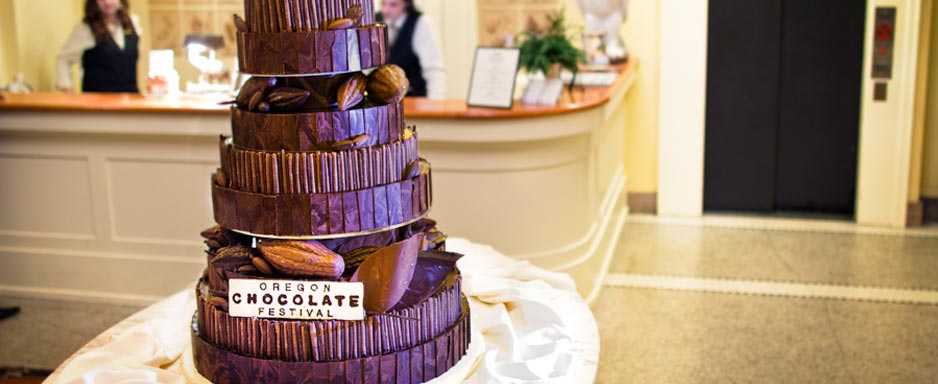 There is more to Ashland than Shakespeare
Oregon Chocolate Festival – MARCH EVENT 541.488.1700
Takes place at the Ashland Springs Hotel during the first weekend in March. Features Oregon chocolatiers and specialty food vendors. Includes presentations, workshops, Chocolate Makers Dinner and more. This episode of Uniquely Rogue captures the essence of this chocolate-centric festival!
Oregon Cheese Festival – MARCH EVENT 866.396.4704
Annual festival takes place during the 3rd weekend in March. Oregon-inspired culinary events, including a farmer's market-style artisan food and wine festival, kick off with the Meet the Cheesemakers and Winemakers Dinner. Sample cow, sheep and goat cheese from Oregon creameries. Held under 1 large tent at Rogue Creamery's Central Point facility.
Ashland Independent Film Festival – APRIL EVENT 541.488.3823
Five-day event featuring documentaries, feature and short films. Shake hands with the filmmakers; attend screenings, discussions and workshops offered at the Varsity Movie Theatre, the historic Armory and the Ashland Springs Hotel.
A Taste of Ashland – APRIL EVENT
Ashland Gallery Association's annual fundraiser. Over the course of one weekend in late April enjoy great pairings from local restaurants, wineries offered at Ashland art galleries located throughout downtown.
Science of Wine – MAY EVENT
This annual event is organized by the ScienceWorks Museum and includes educational workshops and the Winemakers' Dinner.
Fourth of July Celebrations – JULY EVENT
Celebrate in Ashland with a morning run, traditional 4th of July parade, music and food in Lithia Park, and fireworks at night.
Southern Oregon Pride Festival – OCTOBER EVENT
October is the national 'coming out' month and we celebrate it big in Ashland. Join Southern Oregon Pride in their annual festivities that include a kick off dance party, a street parade, and more.
Ashland Culinary Festival – NOVEMBER EVENT
Annual celebration of our local chefs and their great skills. During the first weekend in November visit Ashland to experience the iron chef competition Southern Oregon style.
Festival of Lights Parade – NOVEMBER/DECEMBER EVENTS
Each year, the day after Thanksgiving Ashland downtown turns into a magical winter wonderland with all buildings and trees being covered with Christmas lights.