Experience the ultimate in convenience!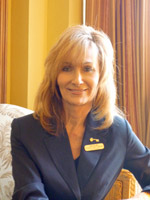 Ashland Springs Hotel is proud to introduce you to our CONCIERGE, Donna "Gigi" LaRossa. Gigi started working at the hotel in December 2009 and has been an indispensable asset to our team. Her years of experience in the travel industry and an incredible knowledge of Southern Oregon give our guests an invaluable source of information about anything and everything in and around Ashland. She is here to enhance our guests' experience, keeping their enjoyment, satisfaction and safety in mind.
The concierge holds the key to the city. She is motivated by a genuine desire to serve and is committed to providing the best possible service to our visitors throughout their stay. Gigi advises our guests on restaurants, theater and outdoor attractions, sightseeing & wine tasting tours, shopping and travel emergencies; from giving simple directions, to solving unexpected challenges. She is here to assist in creating lasting memories. She is a trusted resource for both business and vacation travelers. It is her goal to assist in making sure our guests get the optimum Ashland experience.
If you are planning to visit Ashland and staying with us do not hesitate to contact Gigi in advance and allow her the opportunity to help you plan your trip.
Gigi works Tuesdays through Saturdays, 1pm till 7pm and can be reached at:
541-488-1700 ext. 1011 or Concierge@AshlandSpringsHotel.com
More about our Concierge
Portland Concierge Association
Testimonials
"Thank you very much for your so very kind suggestions and for reaching out to us. Such cordiality is rare now-a-days and is appreciated."
~Dan and Lynn

"Our 50th anniversary stay in Ashland was wonderful. Thank you for your recommendations and assistance. This was the first time we planned activities and reservations ahead of our stay based on your recommendations. You were absolutely right. It is much better to work through you in advance. Everything went smoothly…our Oregon Shakespeare package play tickets were in our hotel packet and your list of restaurants and events was much appreciated. You must have mentioned our 50th anniversary to the restaurants, as we were treated royally. Thank you for making our anniversary special. Our trips to Ashland Springs Hotel are always delightful. On our next visit, again, we will contact you ahead of time to plan our stay. Sincerely,"
~Walt and Janet

"Wonderful boutique hotel! Comfortable bed. My nephew got married there. Staff was very sweet especially Gigi the Concierge! (We were stranded due to all the snow in Seattle) Gigi recommended a jazz breakfast at La Baguette Bakery, walking Lithia Park and a visit to the quaint town of Jacksonville…kept us occupied!"
~TripAdvisor Review

"My Home away from Home when in Ashland! I love this hotel…service is exceptional and room is comfortable. off to the play. Everyone goes above and beyond to make your stay a pleasant one. Gigi the concierge always has new great suggestions."
~TripAdvisor Review

"Fabulous hotel" We stayed for the Shakespeare festival. Great location. Excellent restaurant (Larks) and if you are in need of anything, Gigi the concierge is outstanding. The ultimate professional."
~TripAdvisor Review

"Excellent Staff" Cancelled flights caused longer stay than expected. The staff was so good to us. Given our circumstances, the staff made what could have been a very unpleasant stay, pleasant and comfortable. And the concierge is a sweet informative and very helpful woman who knows all the ins and outs. She guided us to some great places and off the beaten path finds-that kept us busy during our stay. One of the very best concierge's I have ever had-So really-great staff in the Ashland Springs Hotel."
~TripAdvisor Review

"Months late but I wanted to thank you for the great kindness you showed me when my husband and I took refuge in the lobby after the death of our son. We were in such shock. You settled us and gave us coffee, most importantly, allowed us space to grieve in that cocooning, comforting place. Bless you. Thank you.
Gratefully,"
~Paula

"Thank you for all of your help with planning our transportation and day trip. It worked out great. Everyone enjoyed time in Ashland. Great meeting you and thank you again for everything.
Sincerely,"
~Amber

"Your tireless effort trying to find a spa package for myself and my husband made a lasting impression on me. Thank you for going the extra mile. Our stay was so pleasant and our walk down the street in snow was very romantic.
Again, Thank you!"
~Anita

"Thank you for assisting us last night! We are the two Lincoln High School teachers that left our 50 tickets for Hamlet at our hotel. After dining with you, we stopped at your desk to ask about a cab, after asking us more questions, you knew we could have the tickets reprinted . You were our angel! You knew that we could have them printed, called the Shakespeare box office, had them print our tickets, and saved us a round trip cab ride! Thank you so much for helping us last night."
~Sylvie and Tara

"Fabulous hotel" My wife and I stayed here for a few days for the Shakespeare festival. Great hotel. Great location. Excellent restaurant (Lark's). And if you are in need of anything Gigi, the concierge, is outstanding. The ultimate professional."
~Michael

"Thank you for the wonderful hospitality for our 12th Anniversary "Staycation". We all had a wonderful time and just wanted to let you know how much we enjoy your expertise at the Ashland Springs Hotel. We're looking forward to our next visit and Henry the Vth on the 27th!
Warmest Regards,"
~M. J. Flynn, Jr., CEO

"The service was great at all levels including the concierge who helped us out more than once. If you are staying in Ashland and want to be in town then the Ashland Springs is a great choice."
~Nancy

"We thoroughly enjoyed our brief weekend stay in Ashland, and the Ashland Springs Hotel was a big part of it! Particularly, Concierge Gigi LaRossa was superb! Her knowledge base is exceptional! She knew a lot about everything that was asked of her, and if she didn't know off the top of her head, she knew where to inquire and got back to us very quickly – a consummate professional! Gigi's warm personality and great stories made us feel very welcome at the hotel and we are looking forward to returning to the Ashland Springs Hotel soon! Thanks, Gigi!"
~Guest from 2016 stay

"Gigi was a total wow!"
~Mystery Guest Shopper

"Enjoyed my stay and was impressed by the quality of the hotel. Your concierge, "Gigi" was exceptional. She is your best asset and makes the experience what it was! She is by far the personality of the hotel and the caliber of any concierge around the world."
~David – Australia

"Gigi, thank you for everything over the last weekend. Our travelers always speak so highly about you, and you do such a good job. Another successful trip! Hope you get your cucumber cookie this week!"
~Christel, UCLA Group

"Thank you for being such a Shining Star in our little community! You have helped so many local businesses, and I look forward to working with you in the future!
With Gratitude,"
~Dionne

"I am most appreciate of all the suggestions, recommendations and work you have done on my behalf during twelve night stay at the Ashland Springs Hotel. You are gracious and always eager to help. You seem to love your work. Many thanks for everything you have done for me.
Sincerely Yours,"
~Albertha

"Thank you so much for caring for the two of us during our stay. You are wonderful and we so enjoyed you! You helped make our stay here so memorable!
Fondly,"
~Marilyn & Bill

"Thanks so much for all your advice, laughter, smiles, fun tips and high energy! (and for yelling at us from your car in Jacksonville!)
Farewell for now, we are off for Minneapolis, Your 'cute' couple,"
~Paul & Kathleen

"Thank you so much for all your help. You have gone out of your way with enthusiasm, inspiration and compassion to help me with transportation, entertainment, and…..GETTING MY SUITCASE BACK!!! You're a fine asset to any partner, any friend, and certainly any hotel lobby! Ashland Springs Hotel is lucky to have you. All the best,"
~Alice

"You are so very informative and because of your information about the wonderful Spring and Fall Theatre packages… we have now stayed here for the last three years. You are the reason! We always assumed we could not afford it! You always steer us in the right direction!"
~Madeline and Ed

"Thank you for looking after us on our stay at the Ashland Springs Hotel. You are an Angel! We felt so welcome and cared for."
~Hazel

"You made the hotel visit complete!
Thank you,"
~Sally

"Here I am in my office. Thinking to my trip. I really thank you for your help and your pleasantness. I wish you a nice day and see you the next year in February with new adventures!??
Kisses from Italy,"
~Roberto

"Thank you so much for going out of your way for us. You made a frustrating moment a great weekend! Your kindness is appreciated more than you know. We really enjoyed the small winery (Eliana) as a starter to the larger one. It was a great day of learning and fun. Enjoyed breakfast in the garden area and had a tour through Lithia Park. Delightful. You are awesome at what you do. Keep up the good work! We thank you from the bottom of our hearts!"
~Tammie & Vern

"What can I say – you were fabulous in every way! Thank you so much for all your suggestions, your time and the fun! Andrea and I both enjoyed working with you so much. You were a big part of making our board retreat a big success.
Warm regards,"
~Deborah

"You have made a huge difference in our visit. You are amazing. We sincerely thank you!"
~Ellen

"You are great fun and a fantastic conversationalist – your energy is contagious!"
~George

Best concierge ever: I want to tip my hat to Donna "Gigi" LaRossa, the Concierge at the Ashland Springs Hotel. While everyone we met in Ashland, from the hotel personnel to our waiters and waitresses to the ushers at the Shakespeare Festival, was charming, friendly and helpful, Gigi really outshone them all. So amazingly concerned and kind and knowledgeable about everything Ashland. She really exemplified the very best of the hospitality industry, and did everything she could to help us make the most out of our stay. The Ashland Springs Hotel is lucky to have such a dedicated professional on their staff, and we are grateful we met her – she helped us plan our trip and made our stay in Ashland run smoothly (not always easy when traveling with a 91-year-old in a wheelchair). Gigi is a real delight, and I highly recommend consulting her when staying at the Ashland Springs.
~Guest from La Jolla, CA

My Dear Gigi,
Thank you for a wonderful lunch and gracious tour of your lovely hotel. I was genuinely impressed with your property! Yours is a truly first rate gem! And they are fortunate to have such an outgoing, enthusiastic spokesperson as you to represent them – A task which you do with distinction. You have the innate soul for services that is the trademark of all the best concierges. It is a skill that cannot be taught or learned – it is simply something one either has or doesn't. Nurture and foster this ability, and try to spark it in others. And above all – enjoy it., For you have found your life's passion and the world will be better because of it. The many guests you have touched and the many still to come – have had their experience transformed from mere overnight accommodations to something so memorable they will cherish forever, and that my dear, is what it's all about! Keep up the great work. At Your Service,
~Rees Irwin, President of the Portland Concierge Association, January 2012

Gigi,
Wanted to pass onto you how wonderful my daughter's and my experience was paragliding this past Saturday!! I tell you what – we were flying with ROCKSTAR pilots in Christian and Nick ( I believe I have that second name right). They were wonderful and the experience was something I will never forget!!! I would most highly recommend both of them to any of your clients!!! Christian is not a man of words on the phone, but let me tell you – he knows his stuff in the air!!!! I cannot commend them more – top rate and gave us a life-altering experience!! Thanks for all your help while we were staying at Ashland Springs – top rate hotel with top rate personnel.
~Jan

My husband and I were guests at your hotel last week. We were really impressed with the excellent service provided to us by Gigi, your Concierge. She offered us wonderful suggestions for our intown stay, and made several good recommendations. Please thank her for us. Becky's pies were not to be missed, and they didn't disappoint. Also, she left us a message in Portland regarding Symphony tickets there which we were able to purchase. She was the consummate professional. Every hotel would be well served by a concierge such as she, enthusiastic and knowledgeable.
~Barbara

It was wonderful meeting you Gigi. Your suggestions were terrific! The overview of your beautiful city of Ashland brought us all to places and sights that we may never have experienced without your direction. Continue your beautiful work. It's people like you who make our world a better place to live.
~Jim and Dana

Thank you so much for your professional and friendly help to make our Ashland weekend unexpectedly fun! The disappointment and inconvenience we experienced due to the Varsity Theatre's film schedule error was put to rest by your efforts to secure us tickets at the Camelot to see a wonderful production of "I hate Hamlet". We laughed so much and gained a new "must-do" theatre venue that will surely bring us to Ashland more often. And our dining at the Larks' bar was perfect and delicious! Thanks too, for amusing us at 5:30pm with a spot in the restaurant.
~Peggy

Thank you so much Gigi for all the great advice and tips about Ashland and the surrounding area. We had a great stay and look forward to seeing you again soon!
~Lisa and Pat

Gigi,
You were born to be a Concierge with your sparkling personality! Thank you for being so helpful to us to explore the wineries! Our friends from California were impressed by your knowledge, as were we. They plan to see us next year in Ashland – Thanks to you!
~Alice