"..what just might be the best commercial rafting company in North America. The trips are spectacular beyond description, the guides are the best of the best, the food is incomparable, and the customers are treated like royalty."
Paul – A frequent guest and whitewater junkie.
Ready for the adventure of a lifetime? For the first time ever we are partnering with the Ashland based outfitter – Momentum River Expeditions – offering one of the most popular whitewater rafting trips on the West Coast. The Wild and Scenic Upper Klamath River cuts a steep wilderness canyon through the Cascades of Southern Oregon and is one of the finest and most exciting class IV whitewater rafting trips in the west. There are over 30 major class III to IV+ rapids and the trip includes a 'warm up' stretch that makes the Upper Klamath perfect for first timers as well as river junkies. This is the river Momentum got its start on it continues to be a guide and guest favorite.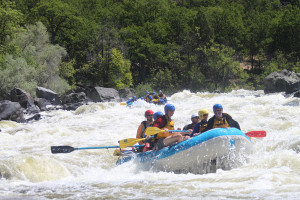 Who it's for:
Class IV+, for experienced and beginner paddlers.
Minimum Age 12
Upper Klamath Day Trip package includes:
An overnight stay for two in one of our beautifully appointed rooms
Rafting trip for one or two (customize your package!)
All river equipment
Hotel pick-up and drop-off
A continental breakfast, gourmet lunch on the river bank, and snacks featuring local and organic produce and products.
World-class guides with a minimum 8 years' experience leading trips around the globe.
Hotel pick up between 8:15 and 8:30am.
Hotel drop off between 5:00 and 5:30pm.
Package available now through September 2015.
Rates start at $290 and include accommodations for two and rafting trip for one.
View all Packages
Reserve Now