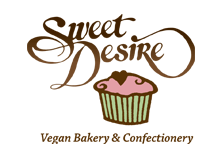 At Sweet Desire Bakery & Confectionery we specialize in vegan and gluten-free desserts. Our delicious cupcakes & custom cakes are ideal for birthdays, weddings, and anniversaries.
Every batch is handmade using organic ingredients sourced from local farms and Oregon distributors.
Please call us to place an order, or try our gluten-free cupcakes at Ruby's Neighborhood Restaurant.
We plan to introduce our new product, Xochi Chocolate Bars at the 2013 Oregon Chocolate Festival.
Every bar is handcrafted in small batches using raw and organic ingredients, including medicinal mushrooms and other super-foods.
www.SweetDesireAshland.com
541-592-9829
Back to Participants