Stiletto Fine Chocolates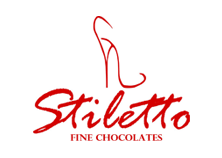 Stiletto Fine Chocolate specializes in extraordinarily fine chocolate truffles. From the elegant traditional flavors to the more exotic, we're sure to have something you'll fall head-over-heels for! We take fine imported chocolate couvertures, fresh local heavy cream and butter and pair them with real fruits, herbs, liquors and spices to create an unforgettable sensory experience.
All of our truffles are painstakingly handmade in Sandy, Oregon by Stiletto's head chocolatier, Krista Underhill. With a passion for creating, a dessert-before-dinner attitude and a love for decadent confections, (and a lot of requests from family and friends) she brought Stiletto Fine Chocolate to life and has continued to inspire new chocolate love affairs with all who try Stiletto truffles since.
Visit us at www.stilettochocolate.com
Back to Participants