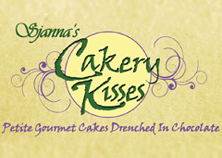 Cakery Kisses are a divine experience. They are not a cupcake or a cake pop. Cakery Kisses are a new unique treat made from cake.
The cake is formulated with a flavorful blend of dairy products, spices, nuts and sometimes fruit to create a heavenly tasteful balance of flavors that is then drenched in fine chocolate.
Only the finest, freshest ingredients are used to create the moist center of the Cakery Kisses. After baking the Cakery Kisses they are then drenched in a rich gourmet chocolate which creates a flavor worth savoring.
Back to Participants