Standing Stone Brewing Company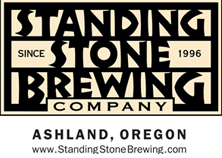 Standing Stone Brewing is a family-owned, full-service brewery and restaurant in downtown Ashland, Oregon. The brewpub's commitment to sustainable operations, great beer, local business partners and fulfilled employees has earned the business local, state and regional recognition. Standing Stone's mission is to create exceptional craft brewed beer and fresh, delicious food, provide living-wage jobs to employees and offer a memorable service experience to customers.
Larry Chase, Brewer
After leaving seminary Larry's brewing career began in 1997 when he decided it was his higher calling. He learned brewing both on the job and through a certificate program at the American Brewers Guild. He relocated from the Midwest to become the head brewer at Standing Stone in 2010. He recently began a 3 year term as a board member for the Brewers Association.
Phone: 541.482.2448
Back to Participants