Slagle Creek Vineyards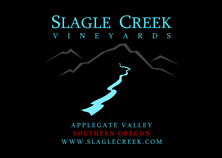 Established 1980. A small family owned winery located at 1800 feet overlooking the west end of the beautiful Applegate Valley in Southern Oregon. The high altitude, warm days, cool nights, gentle south slopes, and stony, loam soil, give the wines their unique character. After having great success with our estate wines we began to source fruit from other small, well tended vineyards. The results have been consistent award winning wines. Our commitment is to produce quality wines of great value, through attentive wine making and intensive vineyard care. Wines we annually produce are Chardonnay, Merlot, Syrah, and Claret, and Tempranillo.
Wines can be ordered by phone or online.
1629 Slagle Creek Rd,
Grants Pass, Oregon 97527
541-846-6176,
www.slaglecreek.com
Back to Participants