Adelante! Gallery & Tea House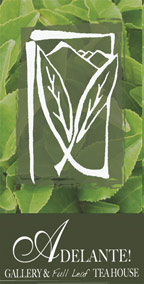 Fine Art ~ Fine Tea ~ Fine Pottery 88 N. Main Street 541-488-0290 Join us on the First Friday Art Walk, March 2nd, 5-8pm, Saturday, 11am-5:30pm, & Sunday, 11am-2pm for hot tea & handcrafted chocolates. View the beautiful artwork from our National award winning artists, including featured artist, Nancy Smith from CA with her new plein air landscapes in oil.
Enjoy Chocolate & Tea on Saturday, March 3rd, at our weekly Tea & Jam, 11am-2pm and during Nancy Smith's painting demonstration, 1pm-3pm. View the art, watch paintings created "Live' and join in the Jam session with local musicians. Continued tea and chocolate festivities on Sunday 11am -2pm.
We have over 45 different high estate grown, handcrafted, full leaf, speciality teas to choose from. Try our 'Tea Flights' all weekend or anytime! 8 flights to choose from, 3 tea pairings in each flight. Have tea at the gallery or on the go!
www.adelantegalleryteahouse.com
Back to First Friday Art Walk